Academic and Keynote Speaker
Professor Del Loewenthal is Director of the
Research Centre for Therapeutic Education
, Convener of the Doctoral Programmes in Psychotherapy and Counselling in the Department of Psychology at the
University of Roehampton
. He is Visiting Professor in the Department of Philosophy, Pedagogy and Psychology at the University of Athens, Greece and Adjunct Professor in the Faculty of Health Environmental Sciences at Auckland University of Technology. He was previously (2004-2007) Visiting Professor at University of Surrey, Guildford. He has been an external examiner for various Doctoral and Masters programmes, for example Metanoia (DPsych) and University of Nottingham (MA Counselling Children and Young People). He has also been an external examiner for PhDs, including at The University of Edinburgh and University College London.
Prior to taking up his appointment in what is now the department of Psychology at the
University of Roehampton
in August 2004, Del was Reader in the School of Education at the University of Surrey. He has received Fellowships to Japan, Europe and North America where he carried out a W.K. Kellogg Faculty Fellowship on problem-based learning.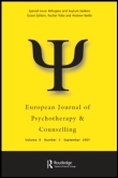 Del has made various media appearances (including on BBC Radio 4 World At One, ITV News and Radio 5) chaired validation panels at Oxford, Edinburgh, Brighton, Exeter, Queens University, Belfast/UEL and in 2007 was made an honorary fellow of the Universities Psychotherapy and Counselling Association
He is also a keynote speaker and has provided workshops in over 15 countries. He is Editor in Chief (a position he has held for 17 years) for the
European Journal of Psychotherapy and Counselling
(Routledge). He is currently Chair of the Universities Psychotherapy and Counselling Association and Universities Training Council (and Chair of both their research committees).
---
Programme Development
LLSince moving to Roehampton in 2004, Del has overseen the development of the following key training programmes:
the PhD in Psychotherapy (2004);
the Advanced Practitioner Programme in Post-existentialism (2004);
the UKCP validated MSc/PsychD in Psychotherapy and Counselling (2005);
the UKCP validated BSc in Integrative Counselling (2005);
the BPS accredited PsychD in Counselling Psychology (2007);
the Post-Graduate Certificate and Post-Graduate Diploma in Psychotherapeutic Care which is based on the government's Improving Access to Psychological Therapies (IAPT) programme (2008).
Professional Qualifications and Memberships
2015-ongoing Principal Fellowship of the Higher Education Academy
2015-ongoing Clinical Supervisor UKCP and UPCA registers
2014-ongoing International editorial board - Ata: Journal of Psychotherapy Aoteara, New Zealand
2013-ongoing Chair of Universities Training College, UKCP
2013-ongoing Applied Psychology Practice Registered Supervisor (British Psychological Society)
2012-ongoing Chair of UPCA
2012-ongoing Chair of Research, Universities Training College, UKCP
2012-ongoing
2010-ongoing Chair of UPCA Research Committee
2009-ongoing HCPC Registered
2007-ongoing Editorial Board – Counselling Psychology Review [BPS]
2005-ongoing Ethics Editor – Journal of Sexual and Relationship Therapy [Routledge]
Editorial Board – International Journal of Work, Organisation and Emotions [Inderscience]
2004-2014 Member, Royal College of Psychiatry Committee on Gender Disorder
International Editorial Board – Counselling Psychology Quarterly [Routledge]
2002-ongoing Member UKCP Psychotherapeutic Counselling Committee.
2002-2004 Member UKCP Registration of Psychotherapists Advisory Group (Lord Alderdice, Chair).
2002 Chair, Research Committee, World Congress for Psychotherapy
Member UKCP Task Forces on Statutory Registration and Counselling
1999-ongoing Member UKCP Research Committee/Faculty
1999-2004 UKCP Governing Board
Founding Chair - UKCP Research Committee
Initiated Psychotherapeutic Counselling qualification
1998-ongoing Founding Editor of European Journal of Counselling and Psychotherapy [Routledge]
1998-2005 Chair of UPCA
1996 Chartered Counselling Psychologist (British Psychological Society)
Analytic Psychotherapist (UKCP, Analytic Section, Philadelphia Association)
1987 Graduate Member of the British Psychology Society
1986-ongoing Chair of programme evaluation panels (Edinburgh University, Exeter University,
University of Oxford)
Research Interests
These are broadly on the implications of continental philosophy for professional practice, theory and research. This includes such areas as:
• The training of psychological therapists
• Post-Existentialism/Post-Phenomenology
• Phototherapy
• Relational learning, ethics and research
• Emotional Learning and Involvement
He is the principal investigator for various national and international research projects and has developed a Centre for Therapeutic Education at the universities of Surrey and Roehampton. He is also responsible for an associated IAPT Research Unit, which has received external funding of over £300,000. Del also directs the Prisons Psychological Therapies Research Unit and leads European projects (currently €320K) on the therapeutic use of photographs including
in prisons
. Also whilst at Roehampton Del directed the UKCP Research Unit (2004-2010) and subsequently the Universities Psychotherapy and Counselling Association Research Unit.
He is also on the editorial board of several journals and has chaired or been a member of the visiting panel for programmes at the universities of Abertay, Brighton, Edinburgh, Exeter, New School of Psychotherapy and Counselling, Oxford, Regents College/Open University.
Publications
Del has published over 100 articles and chapters. For recent publications please see University of Roehampton.

Books: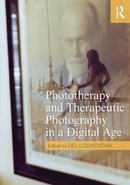 Phototherapy and Therapeutic Photography in a Digitial Age
Author: Del Loewenthal
The digital age has brought about a world-wide evolution of phototherapy and
therapeutic photography. This book provides both a foundation in phototherapy and therapeutic photography and describes the most recent developments.

Phototherapy and Therapeutic Photography in a Digital Age is divided into three sections: In the first, an introduction and overviews from different perspectives; in the second, approaches and contexts, including phototherapy, re-enactment phototherapy, community phototherapy, self-portraiture, family photography. This is followed by a conclusion looking at the future of phototherapy and therapeutic photography in terms of theory, practice and research. The book is for anyone interested in the therapeutic use of photographs. It will be of particular interest to psychological therapists and especially psychotherapists, counsellors, psychologists and art therapists, as well as photographers and others wishing to explore further the use of photographs therapeutically within their existing practices.

A remarkable and revelatory book on a truly amazing practice. Phototherapy is an international therapeutic modality combining a focus on self-image, an interest in otherness, and the release of creative and imaginative aids to healing. It shares in both the optimistic, positive ethos of humanistic psychology and the tragic vision and scepticism of psychoanalysis. Moreover, it is situated in the world 'out there' and also in
the internal world. Hence numerous therapeutic approaches can learn much from phototherapy – I certainly did, for the book was an eye-opener and I hope it is read by all in the 'psy' field.
Andrew Samuels, Professor of Analytical Psychology University of Essex; Former Chair, United Kingdom Council for Psychotherapy

This collection offers valuable insights into the development of phototherapy in Europe and North America and its fascinating reports from the field bring us right up to the present – to the structures of feeling displayed by a photo-saturated, socially-networked digital age. Practitioners, theorists, teachers, community workers, artists, and anyone interested in photographic experience will benefit greatly from this thought-provoking book.
Martha Langford, author of Suspended Conversations: The Afterlife of Memory in Photographic Albums and Scissors, Paper, Stone: Expressions of Memory in Contemporary Photographic Art

We have all experienced moments as therapists when words alone do not seem to be enough. This book opens up the possibilities of digital photography as another way of working. This will be a valuable addition to any therapist's tool kit.
Professor Tim Bond, Graduate School of Education, University of Bristol

We know how powerful images are and how subtly they can influence our view of the world. We are surrounded by images, by photographs and film, more so now in the digital era when most mobile phones can also be used as cameras and images transferred immediately from one person to many. Yet their use within psychotherapy and counselling is relatively unexplored. Arts therapists have begun to encourage clients to use film and photography, computers and IPads to facilitate image making as these may be more familiar than 'traditional' art materials. This exciting book could bridge the gap between the arts therapies and verbal psychotherapy to the considerable benefit of clients – and practitioners.
Professor Diane Waller OBE, Emeritus Professor of Art Psychotherapy, Goldsmiths, University of
London, visiting Professor, Imperial College, London
---
Post-existentialism and the psychological therapies: Towards a therapy without foundations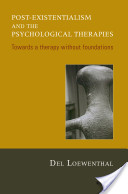 Author: Del Loewenthal

In this book, Loewenthal offers a place where we might still be able to think about how
alienated we are through valuing existential notions such as experience and meaning, while questioning other aspects such as existentialism's inferred narcissism and the place it has come to take up with regards to such aspects as psychoanalysis and the political.
The book is therefore not only for trainee psychological therapists but for person-centered, existential, psychoanalytic and behaviourally trained psychological therapists who wish to reconsider their approach as having possible implications, rather than an application, that they may subsequently consider in meaning and relational terms. This text can also be seen as an introduction to post-phenomenology—following phenomenology through existentialism, psychoanalysis and post-modernism. The book, therefore, can be used not only as part of a therapeutic training but also for those therapists who wish to re-evaluate their training so that they can reconsider it in a way that may be radically different from how they came to acquire it, while not dismissing much of what they have learned.
Publisher: Karnac (2011)
---
Critically Engaging CBT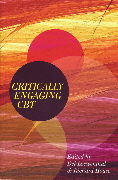 Editors: Del Loewenthal and Richard House

In recent years, Cognitive Behaviour Therapy (CBT) has become an increasingly popular therapy and is now widely recommended by GPs and a range of other health professionals. Part of CBT's appeal lies in the fact that it is time-limited and cheaper than most alternatives. The editors of this book argue that in the rush to embrace CBT there has not been sufficient attention paid to the potential drawbacks of such a therapy. This book redresses the balance by taking a critical look at CBT through the lens of various standard psychotherapy approaches, considering those areas where CBT is appropriate as well as those where it might not be. Leading figures associated with particular approaches (including Jungian, Systemic, Lacanian and Rogerian practitioners)examine the role of CBT and how it fits within their approach, exploring a synthesis of the two. Responses from three leading international CBT authorities enable readers to engage with both sides of the emerging global debate about CBT, and to consider what CBT therapists and other psychotherapists might learn from one another. Critically Engaging CBT is key reading for training and practising counsellors and psychotherapists as well as other health professionals who deal with CBT and/or other psychological interventions.
Publisher: Open University Press (2010)
---
Childhood, Well-being and a Therapeutic Ethos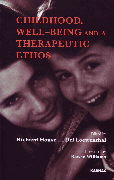 Editors: Richard House and Del Loewenthal

'All is clearly not well with children's well-being in the Anglo-Saxon West, as witnessed by a steady stream of research reports that place children's well-being in the UK and the USA very near, if not at, the bottom of international tables. This mounting cultural and political concern for children's well-being has been buttressed by high-profile media interest in the 'toxic childhood' theme popularized by author Sue Palmer, and highlighted in the Open Letter published by the Daily Telegraph; and the chapters in this important new book arose directly from the addresses given by prominent Open Letter signatories to an expert seminar organized by Roehampton University's Research Centre for Therapeutic Education in December 2006. 'No-one can now ignore the fact that a serious debate about the welfare of children has at last begun in our society. And, appropriately, it has started to open up a wider debate about the nature of learning and even the nature of human maturity. The essays in this collection are significant not only for what they say about childhood but for what they invite us to think about human growth and wellbeing in general. ' - Dr Rowan Williams, The Archbishop of Canterbury from the foreword
Publisher: Karnac (2009)
---
Against and For CBT: Towards a Constructive Dialogue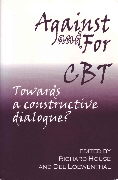 Editors: Richard House and Del Loewenthal

This book offers both a wide range of critical perspectives from around the world, and substantial responses to them. It represents the first attempt to engage in print with the controversies and complexities that have exercised - sometimes painfully - the therapy and counseling world, as cognitive-behavioral therapy (CBT) has risen to such cultural prominence as Western governments take a serious interest in the psychological therapies as instruments of public policy-making."Against and For CBT" will be essential reading for psychotherapists, psychoanalysts and counselors of each and every approach who are concerned with understanding the phenomenon that is 'CBT and its discontents'. It will be core reading both on IAPT/CBT and contrasting modality
training courses that wish to encourage critical engagement with the meaning and cultural context of therapeutic help in the modern world.Professor Andrew Samuels writes: 'This welcome new collection - provides us with many cogent and convincing arguments for, at the very least, questioning the epistemological underpinnings and the methodological validity of the 'evidence-based' ideology in which CBT and its supporters have become accustomed to basking - This splendid new book - promises to open up a crucial and long-overdue dialogue, and introduce the associated 'battle for the soul' of therapy work itself'. Professor Stephen Palmer writes: 'CBT is constantly developing , aquiring and
integrating new ideas, many underpinned by research, and adapting to the requirements of the day. Unlike some approaches, it is not moribund, nor held back by dogma. Its commonsense, pragmatic approach will continue to have wide appeal, regardless of how it is viewed within the counseling and psychotherapy professions.
Publisher: PCCS Books (2008)
---
Post-modernism for psychotherapists: A critical reader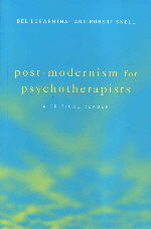 Authors: Del Loewenthal and Robert Snell

Post-modern ideas are now making an impact in psychotherapy and counselling. There is, however, nothing in the current literature that brings together thinking for those professionals who may not be aware of how post-modernism can help inform their work.
Post-Modernism for Psychotherapists is a primer which takes the reader through the ideas of the most important post-modern thinkers (as well as the roots of post-modernism and critiques of post-modernism), giving a clear summary of the essential points of their ideas and how they relate to current and future psychotherapy theory and practice. It will be essential reading for psychotherapists and counsellors, as well as those in training, who need an accessible text covering the basic philosophical ideas and their relation to psychotherapy.
Publisher: Routledge (2007).
---
Case studies in relational research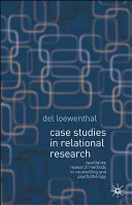 Author: Del Loewenthal

The growing professionalization of counselling and psychotherapy means that students and practitioners are increasingly being asked to carry out research. This distinctive new text uses a project-based/case study approach, allowing the reader to develop research skills through real situations. Each of the main qualitative research methods, together with new directions in relational research, are discussed and attention is also given to such topics as evidence-based practice, the process of research from issue identification to action, the experience of the student researcher and the place of therapeutic research in counselling and psychotherapeutic practice.
Publisher: Macmillan Palgrave (2007).
---
What is Psychotherapeutic Research?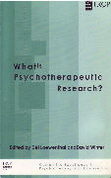 Editors: Del Loewenthal and David Winter
This book marks an important watershed in the development of psychotherapy. It provides examples of how psychotherapeutic research and the abilities to carry it out can help the practising psychotherapist. The papers represent a cross-section of current research thinking from within the UKCP, North America and Continental Europe. It will prove useful for students and practitioners of psychotherapy, as well as those more traditionally engaged in psychotherapeutic research.
Publisher: Karnac (2006)
For more information about working with Del as a psychotherapist/counselling psychologist/supervisor, please
contact
him on +44 (0) 7941 382668. For all other activities, please contact Del on +44 (0) 208 3923615, or email
d.loewenthal@roehampton.ac.uk
.
---